Afose Works Plc has completed the structural modification project for Perenco Telecom Towers 3100 meters on the Cameroun mountain
Afose Works Plc, a company involves in the development, deployment and maintenance of telecom infrastructure, air conditioning, maintenances and rigging services in the offshore and onshore Oil gas industry has completed the structural modification project for the Perenco Tower situated 3100 meters high on the Cameroun mountain.
The job included an initial inspection and mapping of the telecom tower, modification of the initial design of the tower to allow for a higher dynamic and dead load bearing capacity, recalculation and assessment of the structural integrity of the tower, modification and change of the members of the tower, installation of safety features on the tower including lifelines, ladder, aviation lamp, surge arrestor etc. the transportation of 32 tons of materials from the Wouri base in Douala to the top of the mountain with practical no workable road network.
The tower initially designed and built fail to meet it design objectives, Afose Work contracted by Technopol sarl, a company recruited by NewTelNet to manage the tower modification project for final Client Perenco. The project was realised within 19 days against 24 days initially planned. Three firms had earlier failed in the modification of the tower and the project had dragged on for three years.
DAMIAN KEDZEH, President and Founder of AFRICA OFFSHORE SERVICES AND ENGINEERING WORKS PLC, noted the project is sited at a national reserve for wildlife. Temperatures drop below freezing point at times, windspeed ranges between 35km/h and 60km/h with gust at 185km/h during peaks
To him, his team has succeeded in delivering the project within a very short time thanks to the resilience and the rigorous training they have received to work in the most difficult, harsh and hard to reach location and environment. He encouraged organisations with projects in the most difficult, harsh and hard to reach location and environment to confide these projects to AFOSE WORKS, rest and see the projects realised within no delay.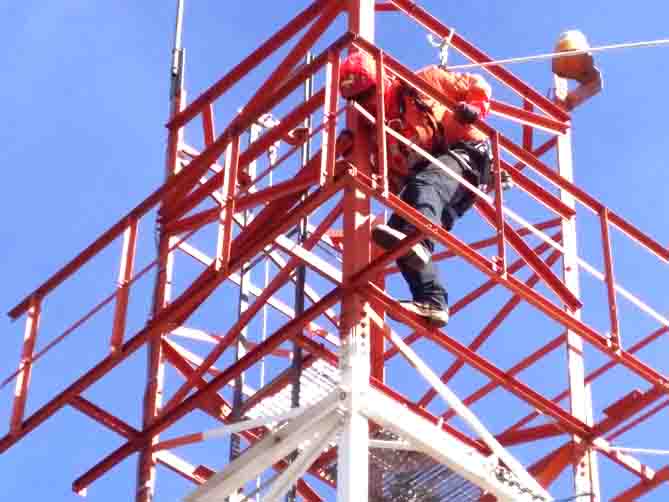 Yes we can help you. Please kindly fill this form to contact us